Sham from Bissane Al Charif on Vimeo.
The first exhibition took place from 11/11/2017 to 26/11/2017 at the Palais de la Porte Dorée, National Museum of the History of Immigration (293 Avenue Daumesnil, 75012 Paris) as part of the festival Visions of exile, organized by atelier des artistes en exil (http://www.visionsexil.aa-e.org/fr/infos/10_b.php).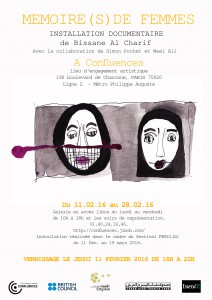 "Memoire(s) de femmes" "Women memories"

Women's Memory, a documentary multimédia installation – "In Ten years" from Bissane Al Charif on Vimeo.
A documentary Installation
At Confluences : lieu d'engagement artistique.
Address: 190 BD de Charonne – 75020 Paris
01.40.24.16.46
Ligne 2 – Station Philippe Auguste
Informations at 01.40.24.16.46. or on http://confluences.jimdo.com/
The opening will take place on Thursday, 11 February 2016 from 6 to 10 PM
And from 11/02/16 to 28/02/16
Gallery is on open access from Monday to Friday from 10am to 18pm
And every event's evenings
This exhibition belongs to the festival PERIL(S)
From the 11th of February to the 19th of March 2016.
More information on this site.