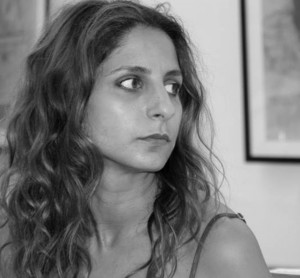 Bissane Al Charif, born in Paris 1977, graduated from the faculty of Architecture at Damascus University in 2001. Then studied Set Designing (Scenography) in the Department of Graduate Studies at the School of Architecture in Nantes and graduated in 2005. She was lucky to be guided and trained by passionate and experienced professors in theatre, cinema, exhibitions, and museums designing, and tried to use these different skills that She obtained from studying and work experiences in different art fields.
This background enables her to be part of individual experiences such as designing exhibitions and art installation and with collective artists as a theatre designer.
In 2005 Bissane went back to Syria to start working at Damascus Opera House as a scenographer. at the same time, She created Scenography designs for big events and theatre Shows in Damascus and worked as well as a set decoration in many cinema movies.
The different culture sources for to be born in France for Palestinian parents and growing up in Syria enriched her artistic view and gave her unique artistic vision a clear appearance in her working style, which gave her the opportunity to work in the Middle East and Europe.
Since 2013, she lives in France and works as a scenographer an independent artist. She trying to develop her skills in the field of art-media.
In 2016, she was awarded in France: The medal of knight, the order of arts and letters after her installation "Women Memories". Her new installation project "Sham", observing the city of Damascus from the view of its children, was presented at Cité nationale de l'histoire de l'immigration, Paris, in November 2017.