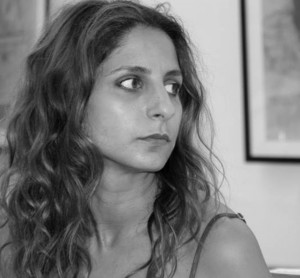 Bissane Al Charif, born in Paris 1977, graduated from the faculty of Architecture at Damascus University in 2001. Then studied Set Designing (Scenography) in the Department of Graduate Studies at the School of Architecture in Nantes and graduated in 2005.
The different culture sources for to be born in France for Palestinian parents and growing up in Syria enriched her artistic view and gave her unique artistic vision a clear appearance in her working style, which gave her the opportunity to work in the Middle East and Europe.
She lives in France since 2013 and works as a stage designer and an independent artist. She is trying to develop her skills in the field of art-media.
She is the set designer of several theater pieces such as "While I was waiting", 2017,  and "The Factory" by Omar Abusaada at the Volksbuehne , Berlin,2018.
Her multimédia installation "Mémoire(s) des Femmes", documenting the individual stories of eight women who have fled Syria, was awarded the French Ordre des Arts et des Lettres in 2015. Her artistic  installation "Sham", observing the city of Damascus from the view of its children, was first presented at the Cité Nationale de l'Histoire de l'Immigration in Paris, in November 2017. Her new artistic installation  "I once an entered a Garden" on collaboration with  Chrystèle Khodr and  Waël Ali was presented at Dar Elnmr , Lebanon, Napoli Teatro Festival, and Noorderzon Festival 2019.